Shawna Baker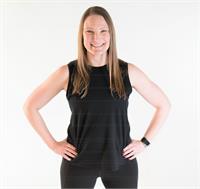 Who She Is: Barre Instructor
What She's All About: Originally from West Virginia, Shawna is a Cali girl at heart who now calls Charlotte home. With a background in dance, she immediately fell in love with barre workouts after taking her first class in 2007! She's been teaching barre since 2014 and is a former barre franchise studio owner. She loves to share her love of barre with others and works to create challenging classes that will have you channeling your inner ballerina while pushing you to give it all you've got!

What She Loves Outside of the Studio: Dogs, Coffee, Adventure, Driving in a Convertible With the Top Down, and Hollywood Stars Fantasy Football
Shawna Baker instructs the following:
Barre is a fun, challenging ballet-inspired full body workout that lengthens, stretches, and strengthens. Combining elements of Pilates, dance, and yoga, this class will help you increase flexibility and build lean muscle. Modifications are given making this class great for all fitness levels. Embrace the shake!