Jae Amoah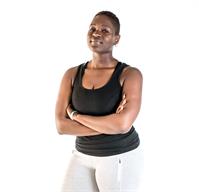 Who She Is: Cycle and Strength Instructor
What She's All About: Jae is a Charlotte native! She has always found herself driven to learn new ways to live a more active lifestyle and more importantly, help guide others to on their personal journey to finding balance and the best version of themselves. As a recent college grad, Jae is pursuing her many passions which include fitness, marketing and makeup!
What She Loves Outside of the Studio: Hanging out with family and friends
Jae Amoah instructs the following:
The Ride is an interactive metrics-based cycling class moving and weaving you through exciting virtual worlds, pushing you to be better than you were yesterday. You'll be driven by music, you'll be driven by speed, you'll be driven by heart rate, and you'll be driven by the desire to set your own record each and every ride. Each class closes with an upper body band workout hitting your core and arms before we send you on your way.