Sarah Francis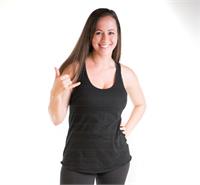 Who She Is: Cycle, Barre, and Strength Instructor

What She's All About: Sarah is a nursing administrator by day and fitness instructor by night! As a health professional and someone who has always made wellness a part of her lifestyle, she is passionate about her own health and fitness and yours. Sarah loves the mental and physical benefits that moving and staying active provide and she loves sharing that feeling with you in the studio!

What She Loves Outside of the Studio: Family, Friends, Travel, and Music
Sarah Francis instructs the following:
Ride to the Circuit is a challenging, stimulating mash-up class where half of your time is spent in The Ride and half of your time is spent circuit training: building strength, endurance, flexibility, balance, and more. Bring your tennis shoes!