Josh Rohauer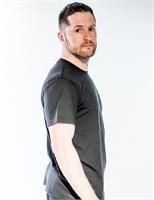 Who He Is: Strength Instructor and Personal Trainer
What He's All About: Josh is a lifelong athlete who started wrestling at the age of five and has practiced and played football, soccer, kickball, hockey, and martial arts over the years. He loves working with people who are just starting out in making fitness a part of their life. Josh motivates his clients with a positive attitude and a little push!
What He Loves Outside of the Studio: Music, Dogs, Friends, and Sports
Josh Rohauer is currently not instructing any classes.