See the Ride... 30 Min Express!
This class is taught by: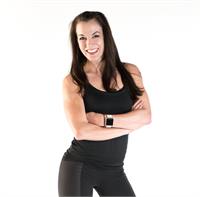 Who She Is:
Cycle, Barre, and Strength Instructor and Personal Trainer
What She's All About: Lyn has been in the fitness industry for over 20 years. She's been a competitive martial artist, a dancer, and a coach. She believes the keys to success in making health and fitness a permanent part of your lifestyle are a positive mindset, the right kind of self-talk, and creating habits that stick. Lyn brings fun into her classes and training sessions and is particularly passionate about working with people who have lofty goals.
What She Loves Outside of the Studio: Family, Friends, Music, and Dancing
30 Minute Class! This class is shortened to get you back to your day job, so we're going to make you work that booty a little harder while you're here!
Need a stronger grasp of reality? Pedal, lean, and turn with our instructors through a virtual course on the front screen. You'll be following an actual outdoor ride to some choice music right in the studio.
Upcoming classes:
Sign Up

Thu

Jun 29 12:00 pm - 12:30 pm

with

Lyn

Addy




Sign Up

Fri

Jun 30 5:30 pm - 6:00 pm

with

Lyn

Addy




Thu

Jul 06 12:00 pm - 12:30 pm

with

Lyn

Addy




Fri

Jul 07 5:30 pm - 6:00 pm

with

Lyn

Addy




Thu

Jul 13 12:00 pm - 12:30 pm

with

Lyn

Addy




Fri

Jul 14 5:30 pm - 6:00 pm

with

Lyn

Addy




Thu

Jul 20 12:00 pm - 12:30 pm

with

Lyn

Addy




Fri

Jul 21 5:30 pm - 6:00 pm

with

Lyn

Addy




Thu

Jul 27 12:00 pm - 12:30 pm

with

Lyn

Addy




Fri

Jul 28 5:30 pm - 6:00 pm

with

Lyn

Addy




Thu

Aug 03 12:00 pm - 12:30 pm

with

Lyn

Addy




Fri

Aug 04 5:30 pm - 6:00 pm

with

Lyn

Addy




Thu

Aug 10 12:00 pm - 12:30 pm

with

Lyn

Addy