The Ride... 30 Minute Express
This class is taught by: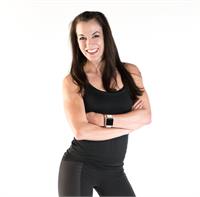 Who She Is:
Cycle, Barre, Strength, and Kickboxing Instructor and Personal Trainer
What She's All About: Lyn has been in the fitness industry for over 20 years. She's been a competitive martial artist, a dancer, and a coach. She believes the keys to success in making health and fitness a permanent part of your lifestyle are a positive mindset, the right kind of self-talk, and creating habits that stick. Lyn brings fun into her classes and training sessions and is particularly passionate about working with people who have lofty goals.
What She Loves Outside of the Studio: Family, Friends, Music, and Dancing
An express version of The Ride!
The Ride is an interactive metrics-based cycling class moving and weaving you through exciting virtual worlds, pushing you to be better than you were yesterday. You'll be driven by music, you'll be driven by speed, you'll be driven by heart rate, and you'll be driven by the desire to set your own record each and every ride.
Upcoming classes:
Sign Up

Tue

Dec 18 12:00 pm - 12:30 pm

with

Lyn

Addy




Sign Up

Thu

Dec 20 12:00 pm - 12:30 pm

with

Lyn

Addy




Sign Up

Thu

Dec 27 12:00 pm - 12:30 pm

with

Lyn

Addy




Thu

Jan 03 12:00 pm - 12:30 pm

with

Lyn

Addy




Tue

Jan 08 12:00 pm - 12:30 pm

with

Lyn

Addy




Thu

Jan 10 12:00 pm - 12:30 pm

with

Lyn

Addy




Tue

Jan 15 12:00 pm - 12:30 pm

with

Lyn

Addy




Thu

Jan 17 12:00 pm - 12:30 pm

with

Lyn

Addy




Tue

Jan 22 12:00 pm - 12:30 pm

with

Lyn

Addy




Thu

Jan 24 12:00 pm - 12:30 pm

with

Lyn

Addy




Tue

Jan 29 12:00 pm - 12:30 pm

with

Lyn

Addy