Mommy and Me
This class is taught by: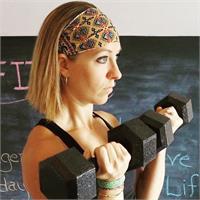 Who She Is: Cycle, Barre, and Strength Instructor and Personal Trainer
What She's All About: Since attending Air Force Basic Training over 18 years ago, Trinity has made fitness and healthy living a part of her daily life. She is an extremely versatile instructor and trainer and loves working with clients of all ages and stages. Her goal is to empower people through fitness just as she feels she has been empowered. She loves to see her students grow and become stronger not only physically, but mentally and emotionally as well.
What She Loves Outside of the Studio: Family, Running, Coaching, and Crafting
Upcoming classes:
Sat

Jul 01 10:30 am - 11:15 am

with

Trinity

Cho




Sat

Jul 08 10:30 am - 11:15 am

with

Trinity

Cho




Sat

Jul 15 10:30 am - 11:15 am

with

Trinity

Cho




Sat

Jul 22 10:30 am - 11:15 am

with

Trinity

Cho




Sat

Jul 29 10:30 am - 11:15 am

with

Trinity

Cho




Sat

Aug 05 10:30 am - 11:15 am

with

Trinity

Cho




Sat

Aug 12 10:30 am - 11:15 am

with

Trinity

Cho




Sat

Aug 19 10:30 am - 11:15 am

with

Trinity

Cho




Sat

Aug 26 10:30 am - 11:15 am

with

Trinity

Cho




Sat

Sep 02 10:30 am - 11:15 am

with

Trinity

Cho




Sat

Sep 09 10:30 am - 11:15 am

with

Trinity

Cho




Sat

Sep 16 10:30 am - 11:15 am

with

Trinity

Cho




Sat

Sep 23 10:30 am - 11:15 am

with

Trinity

Cho




Sat

Sep 30 10:30 am - 11:15 am

with

Trinity

Cho




Sat

Oct 07 10:30 am - 11:15 am

with

Trinity

Cho




Sat

Oct 14 10:30 am - 11:15 am

with

Trinity

Cho




Sat

Oct 21 10:30 am - 11:15 am

with

Trinity

Cho